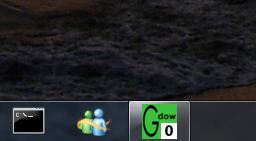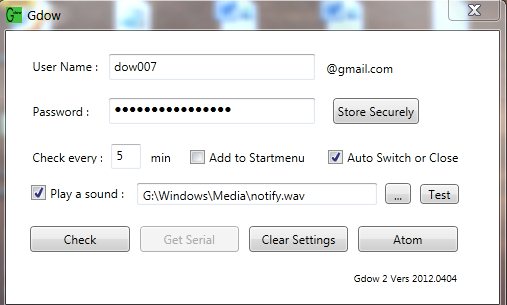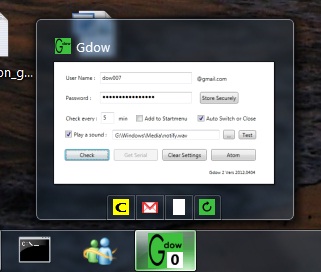 Gdow 2 is a free Gmail notifier with shareware "on the fly" inbox management capabilities.
Gdow 2 uses atom feed parsing for notification and simplified Gdow 2007 engine to connect and interact with Gmail account.
For now interaction includes basic "on the fly" actions : delete, spam and "mark as read".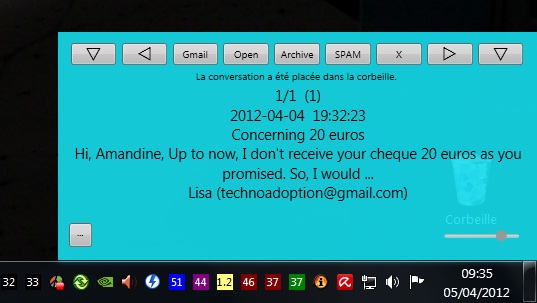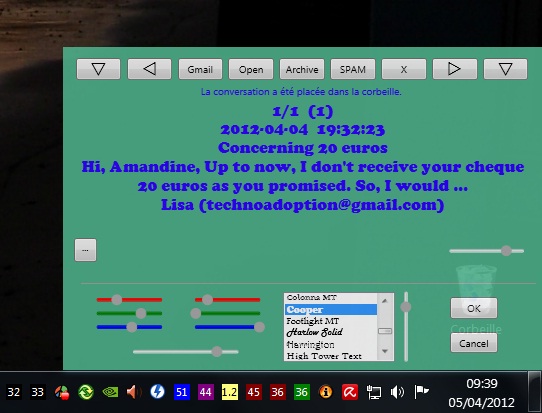 Download Gdow 2 here
Get a serial to activate interacive functions here



Changelog :
vers. 2012.0416 : first release
vers. 2012.1023 :
- replace "Archive" button with "Mark as Read" button which is more usefull
- solved error in case of a conversation with a lot of messages
vers. 2013.0402 :
- solved : connection error due to gmail login address change
- increased panel's speed
vers. 2013.0612 :
- the active windows stay now active when the notifying panel comes up.
vers. 2013.0908 :
- solved : connection error due to gmail evolution
vers. 2014.0522 :
- solved : error when applying an action due to gmail change of request address
vers. 2016.0913 :
- solved : login error due to new Gmail two stage login procedure
vers. 2017.0228 :
- solved : login error due to change of Gmail first stage login address
vers. 2018.0127 :
- solved : login error due to yet another Gmail change in login process
vers. 2018.0518 :
- solved : login error due to a slight modification in Gmail login process